Dr. Ingrid Waldron leans into the mic and says, "I wanted to make it personal." She's talking about her new book on environmental racism called There's Something in the Water with King's Co-op Bookstore Manager Paul MacKay and his podcast co-host Jesse Hiltz, BA(Hons)'08.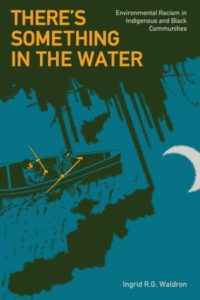 Ingrid's book examines how racialized communities are subjected to disproportionately high levels of pollutants and the resulting health impacts on Indigenous and Black communities in Canada, using Nova Scotia as a case study. "I saw a connection. I saw myself in a topic I didn't originally see myself in," she says, describing the book as a multi-pronged, multi-dimensional, intersectional way of looking at environmental racism. Ingrid teaches in the School of Nursing and Department of Psychiatry at Dalhousie University. "I have an obligation as a black person—as a black woman—to do something with my work…I make sure I connect the work to activism and policy," she says.
Paul and Jesse seem relaxed in the studio, though it's only the second interview the friends have done for the new King's Bookstore podcast. They chose to call the podcast Bookings—which is a portmanteau of "books" and "King's", Paul explains. He and Jesse, who's a bookstore board member, plan to interview authors, scholars and other book lovers, and release one episode per month.
"There's a wealth of people to talk to about books here," Paul says, referencing the high number of King's community members who have written or care passionately about books. Also, the School of Journalism's Radio Room, where Jesse and Paul record the podcast, is located just down the hall from the bookstore.
Paul and Jesse released the first monthly episode of Bookings in late March, featuring an interview with King's humanities professor Dr. Laura Penny talking about her 2005 book Your Call Is Important To Us: The Truth About Bullshit, and sharing her thoughts on modern bullshit. You can listen to it and the April episode featuring Ingrid on Soundcloud, or on Apple Music or Google Play (link from here). In the May episode Paul and Jesse will talk to King's journalism professor Pauline Dakin, MFA'15, whose memoir Run, Hide, Repeat is a national best-seller.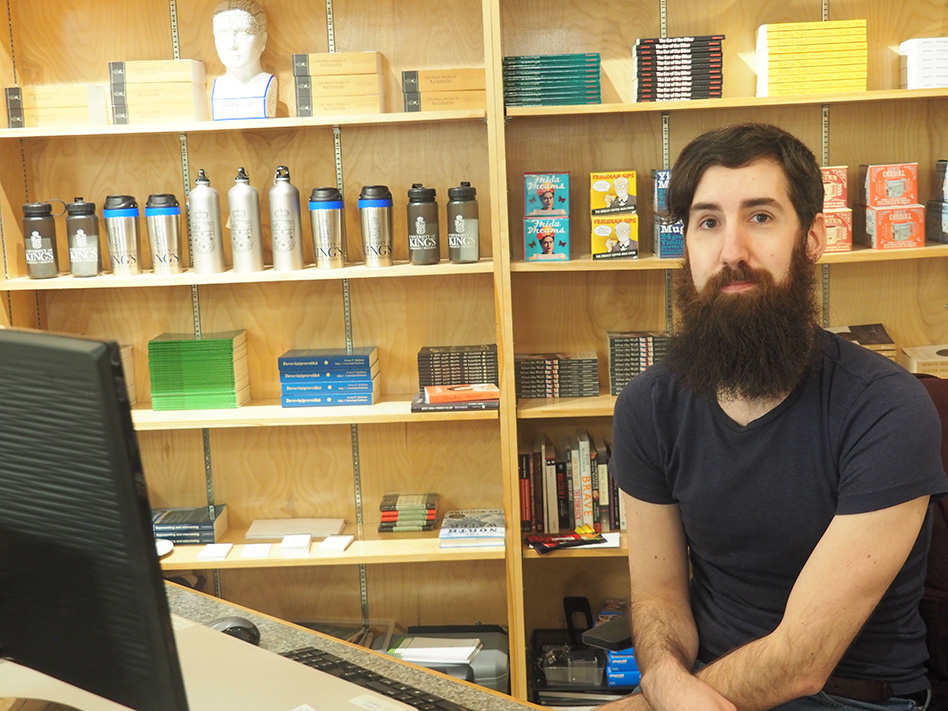 The podcast fits with the innovative nature of the King's Co-op Bookstore. "It's the only student-owned, independent bookstore in the country," says Jesse. King's students buy memberships for $1 each. Every five per cent they spend at the store goes into an account that they can apply to future purchases. The bookstore's board is comprised of five students and four community members. And as far as anyone is aware, it's the only bookstore in Halifax to have a podcast.
Paul's passion for books is undeniable. Though he was once focused on becoming a career musician and music professor, an accident limited use of his left arm. He got a job at Chapters where he could shelve books with his right arm, which led to his new career. He joined the King's Co-op Bookstore two years ago as manager and says he loves finding books for people that can change their lives. " 'This is how I thought and was before I read this book,' and 'This is how I thought and was after I read this book,' " is how he describes the impact books have had on him and how he believes they can affect others. Books affiliated with the Bookings podcast will have their own section in the store labelled "From our podcast series."
People can follow the podcast's Facebook page or webpage and visit the bookstore in the lower level of the New Academic Building (NAB).