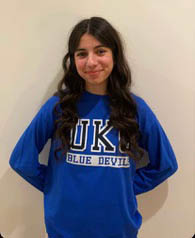 King's Women's Soccer have finalized the signing of Halifax based winger, Ariana Nikolaou, who is set to join the Blue Devils ahead of the 2023-24 ACAA season. Presently playing in the Nova Scotia Soccer League with Halifax City FC, Nikolaou attends Halifax Grammar School where she has also been a key part of the Gryphons senior girls soccer program and has been part of the Nova Scotia Provincial Program. A 5'5 midfielder, Ariana will join the offensive cast Gary Carter has cultivated over the past few seasons, as the Blue Devils look to make a deep post-season run in the Fall.
Nikolaou cites the Foundation Year Program as a major factor in her decision to attend King's. "I was really interested in the Foundation Year Program and about being able to play on a competitive soccer team, while also being able to pursue a degree in a great science program." 
Ariana is the second signing for Women's Soccer in this recruiting class, joining fellow Haligonian, Iriana Theoharopoulos.