What our students say about King's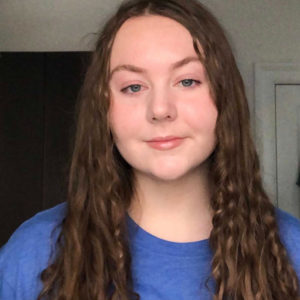 Frances Cooke, BA'26 (she/her)
Hometown: Hamilton, Ontario
What's your favourite thing about King's? The people, the Foundation Year Program (FYP) and my teammates! But the people in FYP, specifically. I started really looking forward to going to tutorial after lecture every day and discussing the reading with whichever tutor I had and my tutorial members. After a few weeks, you kind of get to know everyone and can predict who will like or dislike each reading. I was always really interested to hear what everyone thought, and the tutors offer such great insight as well.
Where's the best spot on campus? The first floor of the library is so beautiful, it actually makes you want to study. Studying on the library steps for oral exams once it got warm out was really nice as well. I also spent a lot of time in the volleyball team room, which is nice because you could be way louder than in the library and we could use the TV for movie nights and stuff. Middle Bay common room is a good spot as well, you can watch TV and use the kitchen to cook or bake, which was nice.
Are you involved with any King's clubs/societies? I'm on the volleyball team! I love it, and it kind of adds another layer of community that you're a part of. I love my teammates, and you get to know most of the other King's athletes as well, especially the ones in your year, so you can go to each others games and cheer them on.
What advice would you give to future students? The more you put into FYP, the more you'll get out of it: don't be afraid to talk or ask questions in tutorial! You definitely have interesting things to say, don't overthink it and don't be afraid to share them. Even sharing a small observation you had about the lecture or reading can offer a new perspective and get a good conversation going. I liked to keep a notebook that was separate from my regular notes while reading or in lecture to jot down things I wanted to bring up in tutorial, and it helped me feel less flustered. Everyone is there to learn. Similarly, I feel like the more you put into King's, the more you'll get out of it: participate in everything as much as you can! It is definitely worth the time investment to study and do the readings, but give yourself room to hang out with your friends and go to whatever events are going on as well, so you can meet new people!
"There's a lot of room for individuality and there's a lot of caring from professors and the President makes a point of talking to people in the dining hall, for example. I have really supportive teammates, and everyone around you is supportive if you need them. It's truly a non-judgmental space."
---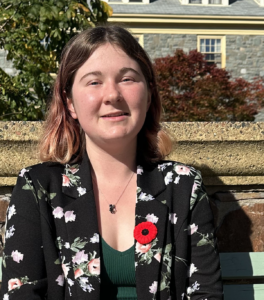 Sydney Haines, BA'26 (she/her)
Hometown: South Rawdon, Nova Scotia
What's your favourite thing about King's? The sense of community and connection that comes from it being such a small university. I can walk across our tiny campus quad and recognize most people.
Where's the best spot on campus? Comfy armchairs on the King's Library first floor, best spot to do readings in. Also, the corner of space between Cochrane and the Chapel buildings that you can watch the sunsets through walking back onto campus from downtown.
Are you involved with any King's clubs/societies? I've participated in the King's literacy society. I also work at the King's Co-Op Bookstore!
What advice would you give to future students? Get out of your room! Its the only way to meet people. Try and talk to anyone and everyone you can in the first few days as people are forming friendships. Go do your readings out in the Quad or the Library; make a separation between your work space and your living space.
"You touch on everything [in the Foundation Year Program] and deep dive with particular texts, ending up with a taste for what you really like. It's ideal in that your first year isn't spent in individual classes you don't end up liking. And it's so great to be with a group of like-minded people."
---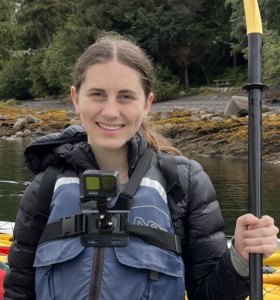 Hometown: Guelph, Ontario
What's your favourite thing about King's? The people, the community and the closeness. King's is kind of like its own small town. Everything you need is right there and all of your friends are never more than a 30-second walk away. When I was touring King's everyone kept saying how magical it is, and it's true, you just don't fully understand it until you're a part of it. This sentiment is corny, but it's truly like no other place in the world.
Where's the best spot on campus? The Wardroom. If I wasn't in class, eating or sleeping last year, you could find me in the Wardy. It's the best place to connect with your peers over a game of pool or figuring out what that day's philosopher was talking about. Other than the Wardy, I would say my favourite spot is the dance studio. As a dancer, I was delighted to find out that King's has its very own big, beautiful, new dance studio right on campus.
Are you involved with any King's clubs/societies? In the fall I joined the King's Theatrical Society and was a part of Classics in the Quad, an age-old King's tradition of performing a Greek play on the steps of the library. One of the great things about going to King's is you also get full access to Dalhousie's extracurriculars as well. I played on an intramural soccer team in the Dal league with my friends from King's called Dante's Inferno. I'm also a member of the Dal Dance Society which I found was a great way to get consistent physical activity and make friends at Dal even though I didn't have any classes there. As a journalism student, I was looking for ways to practice what I learned in class in real-world journalistic cases, which is why I joined the Dal Gazette. This year I'm excited to be the paper's copy editor.
What advice would you give to future students? As soon as you get moved in and all throughout the first week, make sure you are meeting people and putting yourself out there. I know it seems scary to go up and introduce yourself to people, but trust me everyone is just as nervous as you are. So many bonds are made in the first week so it's really just best to just throw yourself into it full force. King's is so small and everyone is so nervous that people form bonds really quick and hold fast to them because they're in such a new scary environment where everyone is together all the time, but there's a shake-up that happens around October when people are more comfortable in their bearings and some groups start to disperse while new one's form. The other beautiful thing about King's is that because your year is so tiny, by second semester you will legitimately know everyone and all the groups kind of merge into really huge ones. You'll feel comfortable and friendly with pretty much everyone by the end. Second semester feels totally different relationship-wise than first semester because everyone knows the drill at that point and feels comfortable branching out. Also, people are ready for a change. King's is so small and tight-knit and you'll find you're closer with different people at different points of the year. If future you told you who your friends are on day 200, it would probably shock you on day seven.
Schoolwork-wise, make sure you take notes in FYP lectures and for the love of Dante, write a short recap after every lecture about the lecture and corresponding readings in a central document. It'll save you during oral study time because you'll already have your study document of the whole semester's material instead of having to make one.
"King's has really opened my eyes to other kinds of journalism that I never even thought about pursuing but that really fascinate me now. The professors and everybody are so knowledgeable and good about helping you explore different things you can do with your degree."
---