Nelly Bateman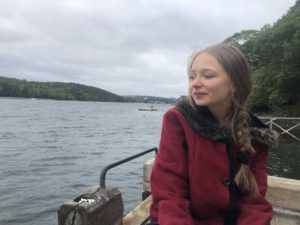 Nelly Bateman never doubted for a moment that King's was the right place for her. "I was in 9th grade and Dr. Neil Robertson came to our school to give a lecture on Descartes' Meditations—and I fell in love. I thought, if this is what they're talking about at King's, this is where I want to be." The attraction sustained through high school and today the Toronto native has just finished a fifth and additional year to her Bachelor of Arts (BA) Honours degree in Contemporary Studies. 
At a high school that encouraged STEM programs, Bateman was drawn to Latin and the classics. Her childhood reading challenges gave way to an absolute passion for it and King's Foundation Year, with its emphasis on reading the great classic books, was an experience she simply had to have. And then, a detour: towards the end of her Foundation Year, she was introduced to contemporary studies. "Dr. Daniel Brandes gave an extraordinary lecture on Hannah Arendt and Dr. Eli Diamond lectured on Simone Weil. They articulated for me some of the questions I'd been having on the crisis of modernity and again, I was hooked." She veered towards contemporary studies. Weil, the French philosopher and mystic, along with Iris Murdoch and the ethics of attention, became the subject of her thesis. 
University is a catalyst for change and Bateman is aware of how her years at King's and the Contemporary Studies Program (CSP) have impacted her.  "There's the stereotype of philosophy being in a lofty ivory tower and being based in rationality and reason with disdain for emotionality and affect. But I came to believe there's value in engaging with the texts you read and the suffering that confronts you, emotionally as well as intellectually." 
To Bateman, that means engaging heartfully. "One of the things I've come to realize here is that being an empathetic and sensitive person is not a bad thing and I've applied that to my work at King's. We have a responsibility to be imaginative and to be hopeful, to be the change we want to see in the world." 
While Bateman has graduate school in sight, she's about to take a year off. "King's was such a special, particular environment. I'm going to need some time to mourn not being a part of that anymore," she says. "But I also want time to consider what kind of school and the right program." She's thinking comparative literature which may mean the UK or possibly the New School in New York City. Meanwhile, she'll continue to work as an editorial assistant for a Switzerland-based communications firm that helps humanitarian aid organizations. "And I'll work as a barista," she adds, laughing. "I love it!" 
Isabella MacKay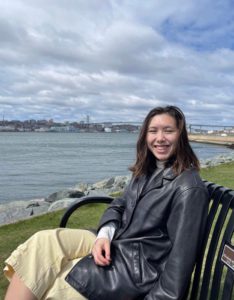 Of the many things Isabella MacKay will miss about King's—the richness of her Contemporary Studies Program, her friends and the closeness of the King's community—near the top of her list is the music. "I fell in love with Halifax's vibrant folk and Celtic music scene. It's in the air here," she says. MacKay played trumpet and piano and sang in high school and she was afraid she'd miss those things in her college life. But the King's Quad is alive with music; she joined the King's Chorus and took up the mandolin and then the guitar and began to jam with like-minded musical friends: "We started getting together in my second year to make music." 
As she prepares to graduate with a combined honours in Contemporary Studies and English, Mackay, from Victoria, says she didn't expect to come to King's. "I went to a university fair and learned about the Foundation Year. The idea of a one-year, fast-track, great books program intrigued me. And when I was awarded a Sobey Scholarship, that clinched it." Nor had she planned on contemporary studies. "My initial thought was to do the Foundation Year, get the arts bug out of my system, and then focus on science," she says. But the program broadened her way of thinking. "I was exposed to theory and philosophy and the "Big C" classic texts. I realized that just because I can do physics doesn't mean I have to do physics." MacKay followed her interests and her instincts in choosing the critical theory, literary criticism and literature classes for her degree. "I gravitated towards great professors." 
MacKay's life at King's was rich and full. For two years, she was Communications Vice-President of the King's Students' Union. "I'll always remember my time with the union. I made great friends," she says. "I worked with a team of people who were passionate about making change. That really influenced me." And she was a regular in King's Theatrical Society productions. "I wasn't a great actor, but I learned my lines well," she laughs. 
Grad school is certain, but not before a gap year in Montreal. "One of the difficulties of going through this intense time of our lives—university—while being isolated during the pandemic is you don't have a chance to get your bearings. This next year will give me a chance to reevaluate where I'm at," she explains. 
Asked about the highlights of her King's years and CSP, it's the people who come to mind first. "The professors are so much more engaged and you have a closer experience," she says. "I'll always appreciate Dr. Brandes, my thesis advisor. He influenced the way I study and think and work. And Dr. Michael Bennett…he taught me how to write."