The temperature is climbing—are you itching for a thought-provoking beach read? The Early Modern Studies Program has you covered; faculty have put together a summer reading list of fascinating books to pack in your tote and pique your curiosity.
Each suggested reading ties into a course(s) on offer next year, so be sure to register your spot! You'll be well prepared having perused these works at a leisurely pace while sipping your iced coffee.
Happy summer and happy reading!
Simon Kow
EMSP 2390 (cross-listed with CHIN 2082, CTMP 2102, HSTC 2811) Asia and the West: Centuries of Dialogue
Zhuangzi, in Readings in Classical Chinese Philosophy, ed. P.J. Ivanhoe & B.W. Van Norden (Hackett)
A classic of ancient Daoism, with irreverent and satirical stories, parables, and seemingly nonsensical conversations featuring fantastical creatures, marginalised individuals, and the philosopher Zhuangzi himself, who teaches the reader to accept the strangeness and ever-changing flux of the world. Forget about your worldly goals or rigid doctrines: just go along with things!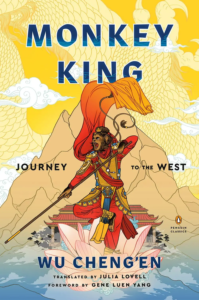 Wu Cheng'en, Monkey King: Journey to the West, trans. J. Lovell (Penguin)
This new translation of the much-loved classic from the 16th century brings the famous story of the Monkey King to life, as he defies the heavenly deities with his super-powers, is finally captured and punished, and as penance assists the Chinese monk Tripitaka on a journey to India to fetch Buddhist scriptures. Part fantasy, part satire, part superhero novel, and part religious allegory, readers are immersed in an imaginary world of demons, monsters, and wicked priests which reflects the syncretic blend of Buddhism, Daoism, and Confucianism in imperial China.
Shūsaku Endō, Silence (Pan Macmillan)
This is a vivid, moving historical novel written in 1966 about Jesuit missionaries in 17th-century Japan. The author, a Japanese Catholic, depicts the persecution of Portuguese Jesuits and their local Catholic followers: while deeply sympathetic to the persecuted Catholics, it also examines the reasons why the Japanese authorities would have seen Christianity as a threat. Its exploration of the moral conundrums of inward faith in relation to outward obedience inspired filmmakers like Martin Scorsese to adapt the novel for the big screen.
Parisa Zahiremami
EMSP 3640 Studies in Early Modern Aesthetics—Cross-Cultural Encounters with the Islamic World in Early Modern Art & Literature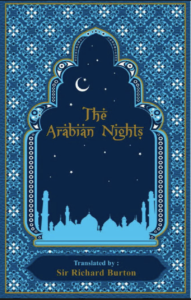 Trans. Sir Richard Burton, The Arabian Nights (Canterbury Classics)
The Arabian Nights (Original title: One Thousand Nights and One Night) is a collection of Indian, Persian, and Arabic tales, which are connected to one another through a frame-story. The frame-story features a wise, witty, courageous, eloquent woman named Shahrāzād (Scheherzade), who uses story telling as a tool to educate her blood-thirsty king and husband Shahriyār and to prevent her own death. The book has sparked discussions on female agency in the medieval Islamic world. It was translated into multiple European languages in the early modern period and informed the ways in which Europe viewed 'the Orient'.
Nasrullah Munshi, Kalīla and Dimna, trans. Wheeler Thanckston (Hackett Publishing Company)
Kalīla and Dimna is a collection of ancient Indian and Persian stories centering on ethical, political, and social issues. The stories often feature animal characters with human personalities, and thus provide the readers with the opportunity to rethink the human-animal relationship in the medieval Islamic world. The book's complex translation/adaptation history highlights the cultural dialogues between India, the Persian empire, and the Arabic world. It has also inspired the French author Jean de la Fontaine in the production of his animal fables, which focus on human nature and character flaws. Kalīla and Dimna has thus served as a source for ethical dialogues between the pre-Islamic ancient India and Persia, medieval Islamic world, and early modern Europe.
Nezami Ganjavi, Haft Paykar: A Medieval Persian Romance, trans. Julie Scott Meisami (Oxford University Press)
Haft Paykar (Seven Beauties) is a 12th-century romantic Persian epic, featuring an ancient Persian emperor Bahrām, who invites seven princesses to his court as his brides. He builds a castle with seven domes, each associated with a particular day of the week and a certain emblematic color. He puts each princess into a separate dome, visits the domes in turn, and enjoys the tales that the princesses tell him. The story told by the Slavic princess in the red dome has influenced multiple Islamic writings and European plays and Operas. Chief amongst them are Carlo Gozzi's play (1762) Turandot and Puccini's Opera (under the same title), which premiered in 1926.
Justina Spencer
EMSP 2415 Art of Global Encounters
EMSP/CMTP/HIST 2011, 3011, 4011 The Lecture Series: Representations of Colonialization and De-Colonialization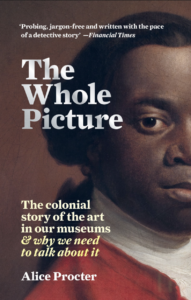 Alice Procter, The Whole Picture: The Colonial Story of the Art in Our Museums & Why We Need to Talk About It (Cassell)
How can we de-colonize the museum? We'll be asking this question in two of my courses (listed above) scheduled this fall and winter. The Whole Picture is a timely and provocative examination of Western museums and the sometimes violent, colonial origins of artworks in their collections. Repatriation efforts are ongoing across the West, but there are countless lost and lesser-known histories of pieces that were pillaged from their place of origin and mounted in institutions that, today, continue to profit from their exhibition. Procter delves into the roots of this practice in Western art history, from cabinets of curiosity to the practice of displaying "living specimens" (people) from foreign territories to educate the public.
Charmaine Nelson, et. al. (ed.), Towards an African Canadian Art History: Art, Memory, and Resistance (Captus Press)
Nelson is the only Black tenured art historian in Canada and this book breaks new ground in its exploration of race and blackness in Canadian art history from the mid-eighteenth century up to the twenty-first. We'll be thoroughly engaging with Nelson's work in the lecture series course. Personally, one of the most stirring moments in this book is Nelson's analysis of the oil painting 'Portrait of a Haitian Woman' (1786) by French-Canadian artist François Malépart de Beaucourt. Nelson's deconstruction of the power dynamics involved in the execution and planning of the piece is a must read and will forever change the way you view portraiture.
Victor I. Stoichita, Darker Shades: The Racial Other in Early Modern Art (University of Chicago Press)
"Differences exist, otherness is constructed." This book is a shrewd analysis of the portrayal of race in the canon of early modern Western art. Giotto, Titian, Dürer, and Caravaggio all feature in Stoichita's study and figure prominently in my course on the art of global encounters. The early modern period was an era of unprecedented cross-cultural encounters and exchange, and this book offers the most up-to-date analysis of the West's conceptualization of racial "otherness" and how such portrayals contributed to the justification of colonialization and slavery.
Hilary Ilkay
EMSP 3610 Early Modern Subjectivities—The Republic of Women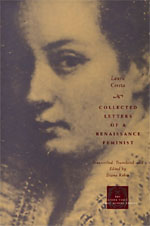 Laura Cereta (trans. Diana Robin), Collected Letters of a Renaissance Feminist (University of Chicago Press)
The Latin letters of Italian humanist Laura Cereta, written throughout her short life between 1469-1499, are not well known, but they include spirited defences of women's intellectual abilities as well as meditations on female friendship and balancing domestic duties with academic passions. In one of the most fiery letters, she coins the phrase "republic of women," which serves as the title of the class!
Gaspara Stampa, The Complete Poems (University of Chicago Press)
Gaspara Stampa's beautiful lyrical poems, published in Italian in 1554, present the reader with Stampa's fulfilled and unfulfilled desires for her lover, a duke. It is a bold collection of verses that draws on Sapphic imagery to show the plight of the lover and the insufficiency of language to describe the beloved.
Tim Clarke
EMSP 3216 Spinozisms: From Early Modernity to the Contemporary World (cross-listed with CTMP 3316)
Spinoza, Ethics (Penguin Classics)
Published only after Spinoza's death and enormously controversial for centuries afterward, the Ethics (1677) proclaims—in the style of a Euclidean geometrical proof, no less—a radical alternative to the prevailing metaphysical systems of his day. Read it to discover why God is nothing other than nature itself, the mind and the body are not two but one, there is no static human essence or "nature," and the powers of knowing, acting, and feeling are fundamentally related. A text of practically immeasurable consequence, having influenced everyone from Hegel, George Eliot, and Marx to Einstein, Zora Neale Hurston, and Jorge Luis Borges, the Ethics is undeniably difficult reading—but, as Spinoza writes in its closing pages, "everything excellent is as difficult as it is rare."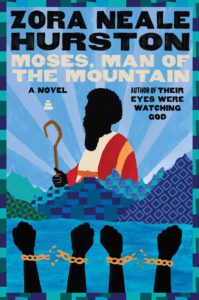 Zora Neale Hurston, Moses, Man of the Mountain (Palgrave Macmillan)
Hurston, a trained anthropologist and one of the most accomplished writers to emerge from the "Harlem Renaissance" of the 1920s, rewrites the Biblical story of Moses as a Black folk tale, with its characters speaking in African-American Vernacular English. More than a retelling of a familiar story, though, the novel is also a Spinozan study in the origins of the state and the inseparability of political power from matters of popular affect or feeling. We will read Hurston's novel as an interpolation of Spinoza's Theological-Political Treatise (1670), which Hurston likely read during her student years and which includes Spinoza's own infamous account of Moses as politician.
Laura Penny
EMSP 2001 Structures of the Modern Self I
EMSP 2002 Structures of the Modern Self II
Giacomo Leopardi, Dialogue Between Fashion and Death (Penguin)
I am technically rereading this for Walter Benjamin reasons. Also because I wish people would dress better. Nevertheless, I suspect this early modern classic will come up in Justina Spencer's course EMSP 3280 Love, Lust, and Desire in Italian Renaissance Art.
Chester Brown, Mary Wept Over the Feet of Jesus (Drawn & Quarterly)
In Quebec City as I read this lovely graphic novel by Chester Brown. Then I went to Montreal & spent more of your tuition dollars on comic books at Drawn & Quarterly! Please take literally any of my classes so I may continue to visit the King's community in Montreal. I am only offering EMSP 2000 next year, but my new pal Tim is teaching my old pal Spinoza, so go take EMSP 3216 Spinozisms!
Maria Warner, Signs and Wonders (Chatto & Windus)
This lady, like my friend Montaigne, just writes essays about whatever. If you would like to take a course on Montaigne & nothing but, do please let us know in the fall so we may offer it in 2023.
1619 Project: A New Origin Story (Penguin Random House)
While I am technically reading this for non EMSP reasons, such as people freaking about this book in my research on free speech, it will nevertheless inform me about early modernity & conditions in the Americas. It is my understanding that they were not great. This comes up in EMSP 2011/3011/4011- The Lecture Series, EMSP 2490 Ideas of the Sea & Seafaring, and EMSP 3430 Theories of Punishment.